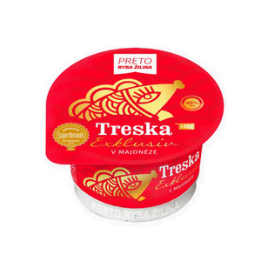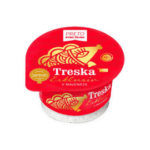 Treska v majonéze Exklusiv 45% ryby Ryba Kosice/Zilina 140g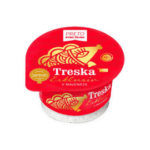 Treska v majonéze Exklusiv 45% ryby Ryba Kosice/Zilina 140g
£1.69
£1.69
Cod fish salad with mayonnaise – 140g –
Ingredients: cod fish 35%, mayonnaise 20% ( vegetable rapeseed oil, dry egg yolk, vinegar, egidle salt, sugar), mayonnaise sauce ( vegetable rapeseed oil, water, vinegar, modified starch, dry egg yolk, edible salt , mustard, sweetener sucralose), vegetable (onion, carrot, zucchini, fiber), sodium benzoate, potassium sorbate.
Contains a sweetener and sugar.


Treska is a delicious Slovak salad dish which can be eaten at any time of the day, it is primarily made from cod fish.
Description
Reviews (0)
Store Policies
Inquiries
General Inquiries
There are no inquiries yet.